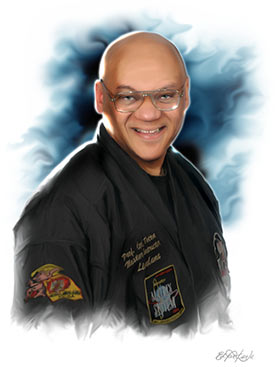 Professor Carl Totton is the founder of the Taoist Institute. He has studied the Chinese healing, spiritual, and martial arts for over 45 years and is licensed as a clinical and educational psychologist.
He is certified as both a Reiki master, and qigong and martial arts grandmaster. He has worked in many clinical settings including private practice, hospitals, community mental health clinics, schools, and a college counseling center.
He teaches classes in all of the traditional Chinese internal and external martial arts, qigong, Taoist meditation, and tui na, the ancient Chinese method of acupressure massage and medical qigong.
Dr. Totton has taught at five colleges and universities, including two schools of traditional Oriental medicine. He is listed in the US Martial Arts Hall of Fame and over twenty volumes of Who's Who biographies, including Who's Who in America and Who's Who in the World. Professor Totton has taught many of the most prominent members of the film, music, and entertainment industries including "A-List" celebrities, executives, and athletes.
Dr. Totton is the founder of the Core System™, a new method of integrating the ancient roots of the traditional healing, spiritual, and martial arts and transforming them for contemporary applications. He has also created Quantum Psychotherapy and Counseling, an integrative method of transformational therapeutic practices for promoting emotional balance and personal growth, and CEBAR: Core Energy Balancing And Reiki, a synthesis of the best of the many methods of holistic energy healing he has studied.
Psychological Services
If you would like more information or you would like to make an appointment, please click the link below to visit DrCarlTotton.com
Alternative Therapists Directory
You can also reach me via the Alternative Therapists Directory!
Education
Psy.D. (Doctor of Psychology, Pepperdine University): Clinical Psychology, CA
BS, MS: Rehabilitation Counseling, California State University, Los Angeles, CA
State Licenses
Licensed Clinical Psychologist, # Psy 17547 (CA)
Licensed Educational Psychologist, # LEP 1878 (CA)
Certifications
Board Certified Holistic Health Practitioner (American Association of Drugless Practitioners)
Board Certified in School Neuropsychology (American Association of School Neuropsychology)
Advanced Training: Psychology
Psychoanalytic Psychotherapy (Object Relations, Adult & Child) Psychoanalytic Center of California, West Los Angeles, CA
Child, Adolescent, and Family Psychotherapy, Graduate Center for Child Development and Psychotherapy, West Los Angeles, CA
Jungian Psychology and Sandplay Therapy, C.G. Jung Institute, West Los Angeles, CA
Thought Field Therapy (TFT), advanced diagnostic level with founder Dr. Roger Callahan, CA
Eye Movement Desensitization and Reprocessing (EMDR), Levels I & II with founder Dr. Francine Shapiro, EMDR Institute, CA
Induced After-Death Communication (IADC), with founder Dr. Alan Botkin, Illinois
Clinical Hypnosis and Eriksonian Hypnotherapy, with Dr. Sheila Rossi, UCLA Extension
Clinical Hypnosis and Hypnotherapy (Levels I, II, III), with Dr. John Kappas, Hypnosis Motivation Institute, CA
Biofeedback and EEG Neurofeedback, with Dr. Marjorie Toomin Los Angeles Biofeedback Institute, CA
Advanced Training: Energy Healing Methods
Qigong and Chinese tui na acupressure massage with Taoist Grandmaster Share K. Lew, North Hollywood, CA
Qigong with Buddhist/Daoist Grandmaster John Fey, North Hollywood, CA
Dr. Carl TottonReiki I,II,III with Reiki Masters Gary and Adele Malone, UK
Reiki I,II,III with Reiki Master Jessica Miller, Sierra Madre, CA
Reiki I, II (Original Japanese) with Reiki Master Yadira, Lake Forest, CA
Medical Qigong and Soul Healing with Dr. Zhi Gang Sha, CA
Chi-Lel Qigong with Luke and Frank Chan, CA
Healing Energy Qigong with Grandmaster Hong Liu, CA
Nambudripad's Allergy Elimination Technique (NAET), Levels I-III with founder Dr. Devi Nambudripad, Buena Park, CA
Ho'oponopono with Dr. Ihaleakala Hew Len, Woodland Hills, CA
Matrix Energetics I-III with Dr. Richard Bartlett, San Diego, CA
Healing the Light Body, Shamanic Healing with Dr. Alberto Villoldo, CA
Advanced Training: Consciousness and Altered States
Hemi-sync Technology, The Monroe Institute, VA

Gateway Voyage
Lifeline
Exploration 27
Remote Viewing Practicum
Starlines
Flower of Life & Merkaba Meditation, with Bob Frissell, CA

Earth-Sky-Heart & Merkaba Meditation with Drunvalo Melchizedek, USA
Past Life Regression with Dr. Brian Weiss, USA
Tensegrity: Magical Passes, with Carlos Castaneda, Taisha Abelar, Carol Tiggs, and Florinda Donner-Grau, CA
Remote Viewing:

Technical Remote Viewing (TRV) with Ed Dames
Scientific Remote Viewing (SRV) with Dr. Courtney Brown
Controlled Remote Viewing (CRV) with Lyn Buchanan
Controlled Remote Viewing (CRV) with Paul Smith
Remote Viewing Practicum with Skip Atwater & Paul Elder
Remote Viewing, Remote Sensing, & Remote Influencing with Tim Rifit, Paranormal Management Services, UK